カテゴリー 一覧
English page
SITE MAP
.
Company Profile
Company name
YAMASAKI GIKEN CO.,LTD.
In business since
March 1948
Company established on
October 22, 1965
Closing month
September
Capital
60,000,000 yen
Representative
Chairman: Michio Yamasaki
President: Takahiro Morio
Senior managing director: Nozomu Yamasaki
Executive Officer

Managing director: Hiromichi Ogasawara
Director and Manager of the Development Division: Hitoshi Yokoyama
Director and Plant Manager: Hidetoshi Yamanaka
Director and Manager of the Marine Products Division: Koji Fukunaga

Number of employees
132
Sales
3,300,000,000 yen (as of September 2020)
Group companies
m.e. works inc.
Hayabusa Suisan
Tosa Seinanmaru
Main business partners
Yamazen Co.,Ltd. / Fanuc Corporation / Fanacmagtronics Corporation / OM Metal Industry Co.,Ltd. / Watanabe Seikosho.
Main banks
Shikoku Bank / Iyo Bank / Shoko Chukin Bank
Company addresses
Head Office and Factory
No.2 Techno-Park, TosaYamada cho, Kami city, Kochi Prefecture, 782-0010, Japan
TEL: +81-887-57-6222 (Main) / +81-887-57-6225 (Customer Service)
FAX: +81-887-57-6223
Email: yzinfo@yamasakigiken.co.jp

History
March 1948
Established Yamasaki Institute of Internal Combustion Laboratory at Kamobe, in Kochi City.
Developed the motorized bicycle 'Bluebird'.
December 1957
Developed outboard engine for motorized bicycles.
Began exports to Central and South America and Australia.
February 1960
Developed non-stop BB-type transmission.
April 1961
Began development of metal cutting tools such as lathes, planers and horizontal boring machines.
April 1962
Developed DM-type non-stop transmission.
March 1963
Relocated the Company's main office and the factory to 1147 Koda, Kochi City.
Opened the Osaka Business Office in Nishi-ku, Osaka City.
Developed YZ-7 Combined Milling Machine.
October 1965
Became a limited liability company under the new name Yamasaki Giken.
May 1967
Developed the YZ-8 Combined Milling Machine.
May 1969
Built our second factory at 2098, Koda, Kochi City.
Became a member of the Japan Machine Tool Builders' Association.
August 1969
Opened the Tokyo Business Office in Setagaya-ku.
May 1971
Developed the YZB-85 Horizontal Boring and Milling Machine.
June 1971
Keiji Yamasaki, the chairman of the 'Society to Save Urado Bay', addressed concerns about pollution after the 'fresh concrete incident.'
April 1972
Opened a fish farm in Uranoichi, Susaki City.
May 1973
Added an assembly plant to the second factory.
October 1973
Added an assembly plant to the second factory.
August 1980:
Added an assembly plant to the main factory.
September 1980
Extended the second factory.
1981
Developed the YZ-8N Vertical Boring and Milling Machine.
Started development of the NC machines line.
1982
Increased capital to 30,000,000 yen.
Developed the YZ-8 Vertical Boring and Milling Machine.
Renamed the Nagoya Office to the Nagoya Business Office.
1983
Released fish into Tosa Bay by the Uranouchi Fish Farm at no public cost.
Developed the YZ-75 Vertical Boring and Milling Machine.
1984
Developed the YZ-8C Vertical Boring and Milling Machine.
April 1985
Opened the Hiroshima Office.
September 1985
Added another assembly plant to the second factory.
March 1987
Opened the Maebashi Office.
February 1988
Developed the YZ-8NC Vertical NC Milling Machine.
September 1988
Relocated the main office function to the second factory.
December 1988
Added a machine plant to the second factory.
March 1989
Constructed the third factory.
April 1989
Constructed the staff canteen 'Keyaki-no-uchi'.
June 1989
Added an office to the second factory.
January 1992
Renamed the Maebashi Office and Hiroshima Office as the Maebashi Business Office and Hiroshima Business Office.
Opened the Fukuoka Business Office.
August 1992
Developed the YZ-450NC Vertical Milling Machine.
June 1993
Developed the YZ-8CR Next-generation General Purpose Milling Machine.
January 1994
Developed the YZ-8WR Next-generation General Purpose Milling Machine.
October 1996
Developed the YZ-500 SGATC Next-generation NC Milling Machine.
April 1997
The Company founder Keiji Yamasaki died.
March 1998
Constructed a paint plant.
March 1998
Relocated the Tokyo Business Office to the newly-built site in Toda City, Saitama Prefecture.
April 1998
Developed the YZ-500WR Next-generation General Purpose Milling Machine.
2001
Increased capital to 60,000,000 yen.
January 2002
Relocated the Nagoya Business Office to Kamiotai, Nishi-ku, Nagoya City.
April 2002
Relocated the Osaka Business Office to Higashi-Osaka City.
September 2005
Linked our Company with the Forest Volunteer Organization and opened its forests to the public.
February 2006
Received the 20th Kochi Local Industry Award for its recycled CD floor covering 'Opalite'.
March 2006
Constructed a new factory in the Techno Park in Kami City. (Completed the first stage of the Tosa Yamada factory.)
July 2006
Established the affiliated company 'ND Materials'.
September 2007
Completed the second stage of the TosaYamada factory (the machine plant).
April 2008
Opened the Tohoku Business Office in Sendai City, Miyagi Prefecture.
Established the affiliated company 'Kochi FEL'.
September 2008
Completed the 'Keyaki-no-uchi' at the TosaYamada factory.
November 2008
Received the 'Good Company Award' (hosted by the Medium and Small Business Research Institute).
December 2008
Completed the third stage of the TosaYamada factory (the paint plant)
November 2010
Established the Kochi Nature Council.
The Company assumed operation of the
'Tosa Nature School', School of Organic Farming (from the 5th term)
July 2012
Had group companies of m.e. works inc.
September 2012
Completed the forth stage of the TosaYamada factory (the assembly plant and Material warehouse).

.
President greeting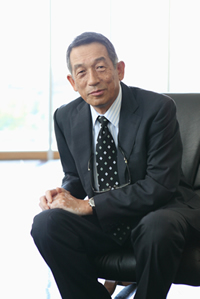 1Since the invention of our first metal cutting machine in 1961, we have continued to introduce the latest technology into our products. At the same time, while pursuing ways to expand functionality, we have pursued a new concept, that of 'user-friendly interface technology.'
Japan's population in the old days was a caring one that demonstrated compassion and put the needs of others before their own. The feeling of 'Grandma's wisdom' that we had then is what we would like to maintain. Isn't it true that when we are doing something for someone else that we are relaxed and feel no fear?
We would like to continue working for our customers and doing whatever it takes to keep our customers satisfied. Our motto for our metal cutting machines is 'easy for everyone', and so we pursued ways to refine the machines after considering various scenarios of their uses in factories.
In the marine products industry, being kind to others also means being kind to nature. In keeping with this philosophy, we have engaged ourselves in efforts to sustain marine species and to create new habitats around Kochi Prefecture. We welcome the people of Kochi into the forests owned by our company in order to provide a place to develop a healthy relationship with nature. We are hoping that this will be a great opportunity for our children to develop a healthy relationship with nature.
Our earth has only allowed well-balanced and beautiful things to survive over the past 5,000 million years, and that is why we have to support and sustain beautiful things. Industries in Japan have made tremendous efforts to increase their productivity, and this has led to our affluent lives with Japan becoming one of the richest countries in the world. However, I cannot stop feeling that the other side of this progress is that we are losing our beautiful oceans, mountains and rivers and that people are losing the caring attitude towards one another. Isn't it strange that we have become more civilized but we losing our minds and our nature?
We, at Yamasaki Giken, have always thought about 'people and nature' and reflect those thoughts in our actions. We believe that, without this kind of thought, Yamasaki Giken as a business corporation will not have a basis of partners and customers because current society will not be sustainable for 50, 100 or 200 years into the future.
Executive chairman Michio Yamasaki

.
Produts
Contact us